Welcome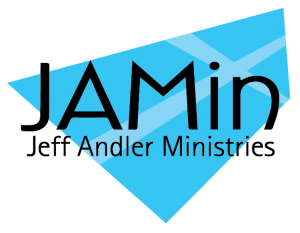 Welcome to the official website for Jeff Andler Ministries (JAMin). We thank you for taking your time to visit us and we encourage you to familiarize yourself with the variety of ministry opportunities in which we're involved. JAMin is a totally faith-based ministry that is not underwritten by any churches or mission organizations and does not actively solicit funds through any means. We ask for your prayer support!
Our Mission
Our Mission is Glorifying Christ in this world by Going to the lost, lonely and hurting and Giving our time, talents and resources to bring them the gospel message.
Our Values & Vision
C- The Commission of Christ as motivational (Matt 28:19-20). We desire to see the lost come to Christ.
H- The Holy Bible as foundational (II Tim 3:16-17). Our ministries are are motivated by and based upon Scripture.
U- A Union of gifted individuals (I Cor 12). We invite the involvement of those who share our vision and desire to use their gifts.
R- A Reliance upon prayer as powerful (Phil 4:6). We solicit the aid of God alone for our needs.
C- A Compassion for others visible (Col 3:12). We react to the needs around us by seeking to serve.
H- A Helping Hand available (Acts 20:35). We regularly assist and encourage individuals and other ministries through our partnership and resources.