We arrived on time on Saturday, but not before having an adventure as we were leaving Charlotte last Friday. We had left the gate when the pilot reported we would be delayed 45 minutes due to a problem in NYC. As we sat on the tarmac, a man came to the front of the cabin, asking to leave. When not allowed to do so according to according to FAA policies, the situation quickly escalated into shouting, profanity, and threats to destroy the aircraft–a federal offense. The plane returned to the gate where where the offender was taken into custody, crying like a baby. The pilot immediately reported that the delay had ended in NYC. We were all grateful that circumstances kept our problem on the ground and not after take off!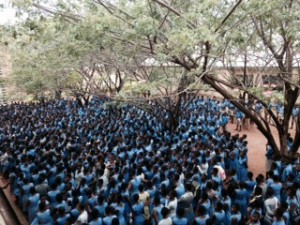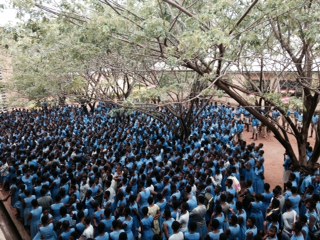 We arrived at our hotel in Dodowa, Ghana to find that we would likely be without power (and therefore water) most of the time. We moved to the one other hotel in town, much nicer-and more expensive. However, the beds feel much like the floor–so sleep is elusive at best. We move to another town at week's end so we hope some comfort awaits.
We began school ministry this morning. My first was a Sr. High school of almost 1800 (see photo). Over 800 trusted Christ and I finished my schools with almost 1200 total decisions. With the Sunday PM film crusades and the second school team today, decisions already number over 2000!
I suppose the inconveniences are a small price to pay! Keep us in your prayers.