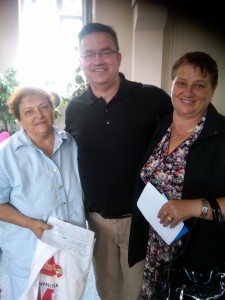 Last week we said good-bye to our friend and brother in Christ Cecil Troutman. His memorial service on Thursday afternoon had to be the most uplifting I have experienced in a very long time. Several hundred attended despite the cold and rainy weather. Gospel quartet numbers, solos, testimonies and congregational singing filled the room and touched hearts, while Pastor Steve Gandy eloquently presented God's plan of salvation per the Troutman family's wishes. Pastor Rick Whittier reminded us all of the endless services Cecil performed in the kingdom of God throughout his life. Here was a man who never sought to be "out front," who never lived in man's limelight, but who obviously touched innumerable lives. This was attested as we watched them stand in line for two hours to comfort his family, and then openly speak during the service of his influence. Cecil was to be with us during our August Honduras medical mission, to serve once again as our "people mover." Someone will have to take his place, but no one will replace him.
As I participated in Cecil's memorial celebration, I was moved to hope that my life will remembered in a similar way. Not for any accomplishments that benefitted me, but for the eternal benefit brought to others in the name of Christ. Old hymns are lesser known these days, but one is brought to mind.
Lord, help me live from day to day
In such a self-forgetful way
That even when I kneel to pray
My prayer shall be for—Others.

Help me in all the work I do
To ever be sincere and true
And know that all I'd do for You
Must needs be done for—Others.

Let "Self" be crucified and slain
And buried deep: and all in vain
May efforts be to rise again,
Unless to live for—Others.

And when my work on earth is done,
And my new work in Heav'n's begun,
May I forget the crown I've won,
While thinking still of—Others.

Others, Lord, yes others,
Let this my motto be,
Help me to live for others,
That I may live like Thee.
I'm off to Ghana, W. Africa this Friday. I'll join Roy Mason, James McLean and Andy Poe as we again share daily in schools and villages. We are to return on Sunday, March 29. Keep us in your prayers and watch for our blogs. As phone service allows, I'll try to keep you up on what we're doing.