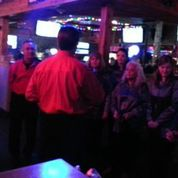 This past weekend our JAMin. Christmas Singers were scheduled to sing at the Rock Hill, SC ChristmasVille event.  The outdoor activities were cancelled due to rain but we went anyway at the request of our ministry partner there, the Rock Hill Dream Center.  We met for lunch at the Texas Road House Grill.  The staff lowered the volume on their music system and our singers preformed some a cappella Christmas tunes, including the "Hallelujah Chorus."  Our group is sounding quite good this year, so it was fun to see the diners gradually realize the music was from live singers and not a recording!
From there we travelled to the covered pavilion of a park area where Dream Center volunteers were at the end of their weekly distribution of clothing, hot soup and drinks. A small crowd had remained so our JAMin. Singers did about a thirty minute a cappella program.  I shared the gospel in a brief presentation I call "Christmas is All About You."  Three people indicated decisions for Christ, including a lady the Dream Center staff said they had been dealing with for some time, but who just never came to a decision.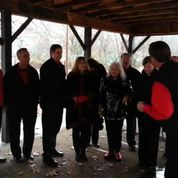 We were reminded that God works in the ways He chooses, and that our interrupted intentions are usually His divine interventions.  He also reminded me that His greatest encounters while on earth were often away from crowds with one person, and His very greatest accomplishment was made by Himself on the cross.  The size of a crowd is not the important issue, but rather the work of the Spirit in a life.  We saw that and we are grateful.
This coming weekend we will be at the Billy Graham Library on Saturday PM and Wilora Lake Lodgeon Sunday AM.  Sunday night I plan to attend the Magnify Concert in Cornelius, NC where my recent choir and orchestra arrangement of "O Holy Night" will again be performed.
Busy and happy!