If you've been around me very much, you've likely heard me say, "Be nice to senior adults, you're gonna be one!"  In most circles, I now qualify as a senior though I haven't fully accepted the idea (well, that's my head; my body is gradually trying to persuade me).  At any rate, I've been hanging out with seniors for many years now and I've never found it difficult to be "nice" to them.  O sure, there's the occasional cantankerous old grouch, but like a pastor once told me, "Jeff, old grouches were usually young grouches."  As a rule, seniors are the kindest, most positive and FUN-LOVING group I know.  That was proven again this past week as our senior adults at Arlington Baptist Church enjoyed their annual fall retreat at Caraway Conference Center in Ashboro, NC.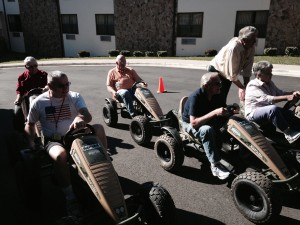 The surroundings were beautiful and relaxing as always, the food was again bountiful and delicious, worship and Bible study times were inspirational and challenging, and the entertainment absolutely hysterical.  On Tuesday, much of the entertainment was provided by attendees in an "All Things Carolina" night.  Our seniors from Arlington actually concluded the evening by helping me sing an original composition from years gone by, "Keeping My Mind on Home."  I played and sang the verses as a solo and the group joined on the refrain – three part harmony!  Except for one lady, none of our group was familiar with the song, so I taught them their part during free time that day.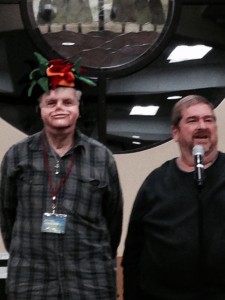 After the program and final refreshments each evening (from homemade ice cream to hot biscuits and homemade jams provided by attendees), our group gathered in couches and chairs outside our rooms and shared jokes, more goodies, and a closing time of prayer.  The week passed quickly and we all returned home looking forward to 2016.
On Wednesday PM, our entertainer was comedian and singer Barry McGee, who was nothing short of hysterical.  I am glad to announce that I was able to schedule him for our annual Christmas luncheon at Arlington Baptist Church on Friday, Dec. 18.  Maybe you can attend (55 and older).  The luncheon is complimentary, and we will receive a love offering for Barry. And maybe you can join us on Oct. 3-6, 2016 for the next retreat, "Living the Good Life."
Be nice to senior adults?  It's not hard.  OK, OK, I am one.  So far I'm enjoying it immensely.
Here are some photos from our most recent mission project in Ghana: