Our book signing at Arlington Church was a good time on Sunday. The traffic was quite steady for over an hour. A little after 5:00 it settled to a lighter flow for the next 45 minutes, then we wrapped it up at 6:00 PM as planned. We sold quite a few copies of "It Gets Even Better" and enjoyed time with present and past friends. I'm mailing books out almost every day and we're beginning to hear very positive response from those who have finished reading it. I'm not sure I will continue shipping books myself once I run out of my stash. It creates quite a chore. It's good to be able to refer folks to their bookstore or a website.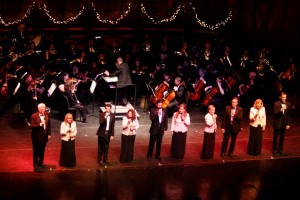 When I was a full time music minister, I enjoyed composing and arranging many songs and musicals for our choir and orchestra. I had not done anything like that in about 15 years when I got a call on August 15th asking me to create an arrangement of "O Holy Night" for solo, choir and orchestra! I nervously accepted the challenge and dove back into the software program that by some miracle still worked! I completed the arrangement last week. It will be performed at the Charlotte Civic Orchestra Christmas Spectacular on Sunday, November 30 at Central Piedmont Community College's Holton Hall. John Leon Lewis will be the guest soloist. He will be joined by two outstanding local high school choruses. I'm pretty excited to have this opportunity once again. I don't know what's up but I received another call just today telling me I may be approached to do more commissioned work. Wow! I told them they may want to wait until they hear the Christmas tune!
I'm grateful to be used in any way possible!